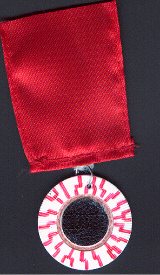 For achievment of a altered state of being through sleep depravation and or the use of magic potions
For outpartying your fellow priests to the crack of dawn or more...
For still knowing your secret name in the wee hours of the morn...
To thee we give a honor of the silliest and most self~destructive....
For thou art a "Very High Priest"....
Thine ist in der handbasket and enjoying the ride!!
Over the braincells loudspeakers play loud sounds of whitenoise of the party's hours past!
Your award of damage never to be repaired,of memories to hope to not forget,are yours.And this snazy Medal.